Four Home Repairs that Can help Keep Scorpions out of your House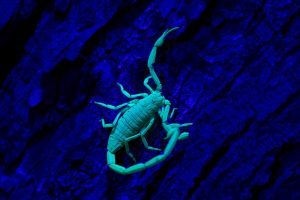 As you make your weekend list of things to do before the weather heats up, here is a list of small, but important repairs that you can do to help keep scorpions out of your home.
Fix any leaky faucets.  This is a great water source for the scorpions, and all the bugs they use as food.  This will help your water bill and help keep the scorpions away.
Repair or redo the weather stripping around doors.  Scorpions only need the width of a credit card to enter your home.  Make sure you seal those doors as tight as you can so they know they are not welcome.
Caulk around entry points.  A little caulking goes a long way.  You can put caulking around any holes, cracks, or plumbing points around your home.  This will help with not only scorpions, but many other of their creepy crawly friends.
Screen off Dryer vents.  This can be a little time consuming, but will prevent scorpions, birds, and rodents.
All of these jobs are small, but can add up to a big solution to your scorpion issues.  These can also help you save on your energy usage as well.  If these are not chores you are able to do yourself, give us a call at Stormin' Norman to discuss our professionals getting these jobs done for you.