Maricopa Pigeon Control. Stormin' Norman Termite and Pest Control is the clear choice for residential and commercial pigeon control services in Maricopa, Arizona.
Residential – Maricopa Pigeon Control
We have been providing quality, affordable, and dependable services in Maricopa, AZ for years. Our Maricopa pigeon control service exceeds our customers expectations and we take pride in the quality of our work. We offer a FREE inspection of your home so we can evaluate your needs and customize a package specific to your home. Our Maricopa pigeon control service will help control and protect against pigeons.
At Stormin' Norman we offer our "Elite" package for your home. The Elite package provides services to protect your home from general pests, termites, rodents, and scorpions. All this protection is rolled into one affordable price and provides complete protection for your home and family.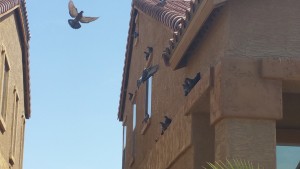 Commercial – Maricopa Pigeon Control
Stormin' Norman provides commercial Maricopa pigeon control service as well. A monthly visit from your favorite pest control company can be the difference between keeping a customer and losing one due to pests. Call today for your free estimate.
FREE Pest Inspection
Customize a Maricopa pigeon control package for your home or business today!
Stormin' Norman termite and Pest Control offers termite control treatments, warranties, and inspections. Experts estimate the U.S. spends $5 billion each year on termite control and repairs for damage. Realtors in Arizona will tell you, that it is not if your home has termites, but when your home will get termites. You can't protect it, if we don't inspect it!
We recommend a preventative termite treatment around the perimeter of your home and business every 5 years. Along with our termite treatments we offer 1-5 year warranties.
Click here to schedule your FREE termite inspection with Stormin' Norman Pest Control today!
As seen on Exterminator-Search.com!